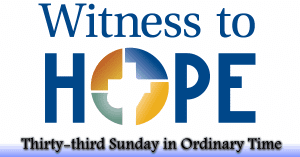 Today we celebrated the Thirty-third Sunday in Ordinary Time. We heard the readings from Malachi 3:19-20 and 2 Thessalonians 3:7-12. The Gospel was proclaimed from Luke 21:5-19.
To find out more about Witness to Hope, click on Witness to Hope Campaign at St. John Parish.
Fr. Chas' homily:
To easily download this homily in MP3 format, be sure to check our online homilies page!