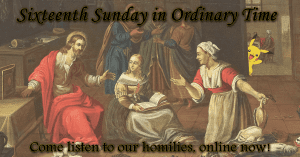 Today we celebrated the Sixteenth Sunday in Ordinary Time. We heard the readings from Genesis 18:1-10 and Colossians 1:24-28. The Gospel was proclaimed from Luke 10:38-42.
To begin his homily this weekend, Father Chas asked us "Do we welcome Jesus into our homes? Is He present, and do we do Him honor? Do we have a crucifix hanging somewhere prominently in our home?"
Do we make our lives hospitable to Jesus?
Fr. Chas' homily:
Fr. Brian's homily:
To easily download this homily in MP3 format, be sure to check our online homilies page!