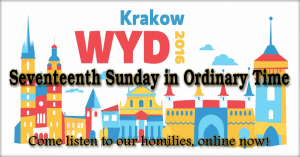 Today we celebrated the Seventeenth Sunday in Ordinary Time. We heard the readings from Genesis 18:20-32 and Colossians 2:12-14. The Gospel was proclaimed from Luke 11:1-13.
With Father Chas and many of our youth away in Poland for World Youth Day, we were blessed to be able to welcome Father Kurian to come and speak about his mission in Africa.
Fr. Brian's homily:
Fr. Kurian's homily:
To easily download this homily in MP3 format, be sure to check our online homilies page!