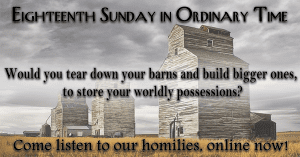 Today we celebrated the Eighteenth Sunday in Ordinary Time. We heard the readings from Ecclesiastes 1:2,2:21-23 and Colossians 3:1-5,9-11. The Gospel was proclaimed from Luke 12:13-21.
Father Brian gave an inspiring homily as he explored the question that Jesus asked and the parable He told us in the Gospel today.
Fr. Brian's homily:
To easily download this homily in MP3 format, be sure to check our online homilies page!