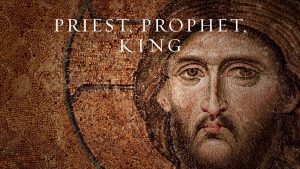 This is our last installment in our 3- part homily series as we look to Jesus as Priest, Prophet, and King. Listen to both Fr. Chas and Fr. Brian's homilies to help prepare you for Advent!
This weekend, our parish also mourns the painful and great loss of our Director of Parish Operations, Andy Bihl, who passed away unexpectedly Saturday morning. Our prayers, love, and support go out to the Bihl family in this difficult time and we pray for the repose of Andy's soul. Details of Andy's funeral will be posted as soon as they are available.
Eternal rest grant unto him, O Lord, and may your perpetual light shine upon him. May he rest in peace, amen.
Fr. Chas' Homily:
Fr. Brian's Homily: