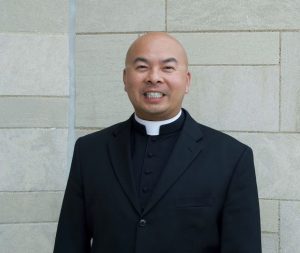 From our Pastor, Fr. Chas Canoy…
Dear Parish Family,
When Jesus began his public ministry, he entered the synagogue in Nazareth, took the scroll of the prophet Isaiah, and proclaimed a passage from it that would be fulfilled by the promised Messiah: 
The Spirit of the Lord is upon me, because he has anointed me to proclaim good news to the poor.  He has sent me to proclaim liberty to the captives and recovering of sight to the blind, to set at liberty those who are oppressed.
 Then Jesus rolled up the scroll and gave it back to the attendant.  As St. Luke recounted, "The eyes of all in the synagogue were fixed on him."  Then Jesus, breaking the silence, made the audacious claim to all present: "Today this Scripture has been fulfilled in your hearing."
This momentous declaration began Jesus' public ministry in which he would proclaim the Good News of salvation.  What separated Jesus from all other would-be claimants of the title Messiah?  Jesus did what he said he would do; he set people free and supernaturally healed them from the various ailments that afflicted them, be they physical, emotional, or spiritual afflictions.
 Before Jesus ascended into heaven, he commissioned his followers, "Go and make disciples of all nations."  He had promised them the power to fulfill the Great Commission:  "Truly, truly, I say to you, whoever believes in me will also do the works that I do; and greater works than these will he do, because I am going to the Father."  The Holy Spirit empowers the Church to fulfill this work and charge from Jesus to this day.
 In our call to become missionary disciples, we at St. John want to emulate the approach of our Lord Jesus Christ who accompanied his proclamation of the Good News with works of healing and mercy.  With so much woundedness in people's lives, it is more difficult for those who hurt to receive the Good News unless it has a direct bearing on healing their wounds, whether those wounds are emotional, spiritual, or physical.  Thus, in the year ahead, our parish will make the development of our healing ministry a top priority.  
To that end, we will equip interested parishioners with the instruction and experience needed to be channels of God's healing power.  This training will lead to the formation of healing ministry teams that will make opportunities for prayer and healing more readily available to the people of Jackson.  
Be on the lookout for various opportunities we will be making available to empower our parishioners to be agents of Jesus' healing ministry! 
Mark Saturday, November 2 on your calendar, as we bring in Bart Schuchts from the John Paul II Healing Center to lead a "Day of Equipping"!
Just 45 minutes north of us, at St. Mary of Williamston will be an introduction to "Unbound" prayer and the "Five Keys to Freedom" at the "Live Free!" conference on Saturday, October 26.
We have healing prayer available monthly right here at St. John with our Ablaze Prayer Ministry on the 2nd Thursday (women only) and 4th Thursday (both men and women) of each month!
An introduction to Inner Healing will be the topic for this fall at our Gamma Group that meets on the 2nd and 4th Sundays at the parish center.
Finally, save the dates, December 5 to 7, for "Healing the Whole Person" teaching sessions at St. Patrick in Brighton.
With all these events in the works both at the diocesan and parish level, there is something for everyone to be involved in some way.  The Lord wants to use each of us! Will you open yourself to be an instrument of his healing power for the brokenness around us?
Yours in Christ,
Fr. Chas Canoy