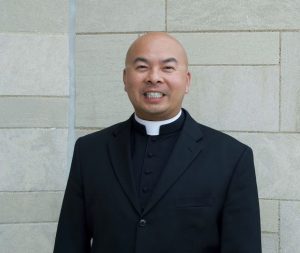 Dear Parish Family,
Welcome to St. John Parish! Each Easter Sunday, God's breath of hope emanates from all the churches throughout the world because Jesus Christ has risen from the dead! In that victory, Jesus has defeated the spiritual forces that bind the human person from receiving freedom and life. Those evils Jesus defeats for those who are united in him, which still wreak havoc and fear in the lives of many, are sin and death. Jesus' resurrection "conquers overwhelmingly" (Rm 3:37), and yet his power to liberate has yet to be unleashed in the individual lives of many.
Do you find your presence here on this Easter Sunday just a cultural celebration, rather than a true experience of freedom and life? We invite you to be a part of those who, though still very imperfect sinners, enjoy the "freedom of the sons and daughters of God" (Rm 8:21). Seize and appropriate the victory of Jesus at Easter into the victory over sin and death for your own life by a living faith in and surrender to Jesus Christ as the Lord and Savior of your life. For this to happen, you must get rid of the idols in your life and make him the center of your existence, not just today, but each and every day.
Too many of us say we want this freedom and abundant life Jesus offers, but we aren't willing to change and live in a way that unleashes his divine life in our own. If you want Jesus and his power to affect your daily life, you must be in relationship with him each and every day.
That involves at least three things:
1. It involves a daily prayer life by which you deepen your relationship with God. This should include contemplating on the transformative truths of God, by contemplating a passage of Sacred Scripture regularly, a habit which we as a parish have been working to establish in this Year of Prayer.
2. It involves the sacramental life of the Church, principally sacramental union with Jesus in the Eucharist at least each Sunday. The sacraments are the principal means by which God shares his divine life of grace with us.
3. It involves Christian community, that is, friendship with brothers and sisters in Christ who also are striving mightily to be true disciples of Jesus, so that your shared friendship and fraternity can keep you focused in a world full of distractions and temptations, which frustrate your good intentions and divide your loyalties.
If you would like for us to connect you with a small group, contact Todd Gale at todd@saintjohnjackson.org. If any of these are missing in our lives, we will not know the full extent of Jesus' transforming power in our lives. So don't just celebrate the Resurrection of Jesus; live it! Live it in your own life! Triumph over evil, hatred, and division, by living concretely a life of goodness, love, and unity. That is what St. John Parish wants to help do in your life and the life of your family. Join us in living the Resurrection! Easter blessings,