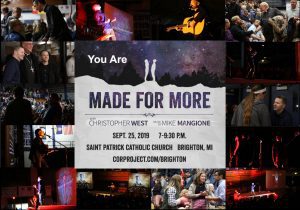 SAVE THE DATE!
This event will sell out, so get your tickets early!
Tickets are $20 each and are now available in the parish office (CASH OR CHECK) or online at https://www.eventbrite.com/e/made-for-more-brighton-mi-tickets-58877773004
MADE FOR MORE is an inspiring live performance; a blend of teaching, live music, and art that taps the deepest desires of the human heart revealing their ultimate purpose and goal. Join world renowned speaker and author Christopher West, along with critically acclaimed musician Mike Mangione, as they present an all new event called MADE FOR MORE: VISIONS OF THE PROMISED LAND.
St. John the Evangelist is co-hosting this event at St. Patrick Catholic Church in Brighton, MI. 
For more information, please click here.
Event trailer: https://vimeo.com/251850893
This event is appropriate for ages 15 and up.