Dear Parish Family,
Christmas is on a Monday this year!  In case the temptation crossed your mind, there is no "hitting two birds with one stone" by going to the Christmas Eve Mass on Sunday evening.  A number of folks have asked about it, and so to clarify, we are still obliged to fulfill both obligations with two separate Masses:  one for the Fourth Sunday of Advent and the other for our Christmas observance.  The least we can do for the gift of God becoming one of us in Jesus is give him his due worship with hearts full of joy and thanksgiving!
Thus, the Bishop clarified that any Masses before 4:00 p.m. on Sunday, December 24 are in observance of the Fourth Sunday of Advent.  The Masses at 4:00 p.m. and thereafter will fulfill our Christmas observance. That means we won't have our normal 5:00 p.m. Sunday evening Mass on December 24 because our Christmas Mass schedule will have kicked in:
Christmas Eve, December 24:

4:00 p.m. and 7:00 p.m. at St. John Church
                                                                 12:00 Midnight at St. John Church
                                                                 4:15 p.m. at St. Joseph Oratory
Christmas Day, December 25:  8:00 a.m at St. John Church
12:00 Noon at St. John Church
9:30 a.m. at St. Joseph Oratory
If you normally go to the busy 4:00 p.m. Mass at Christmas Eve, perhaps try the Midnight Mass or a Christmas morning Mass on the 25th this year.  Note that our last Mass on Christmas Day (Monday) is our Noon Mass.
Christmas always brings a great increase in our Mass attendance.  The 4:00 p.m. hour is by far our busiest, which is why we also have the 4:15 p.m. at St. Joseph Oratory.  For those packed Masses, there is a temptation for us to jockey for position and even be less charitable than we normally would be.  My challenge to you practicing Catholics who faithfully go to Mass throughout the year is to have a particular eye for those sitting close to you who do not come regularly.  Watch out for them not to give them a suspect eye but to be extra hospitable to them!  Welcome and introduce yourself to them.  Invite them to come back!  That can be as simple as saying to them after Mass, "Wonderful to have you with us!  Hope to see you on Sunday!" Jesus thirsts for them to come back because their supreme happiness both here on earth and for all eternity is at stake!
Remember what we covered on the Sunday homilies of November 26 and December 3.  If you missed either of those Sundays on "The Game Plan: Grow + Go," you listen to them here.  As a review, here is the image I used with the December 3 homily: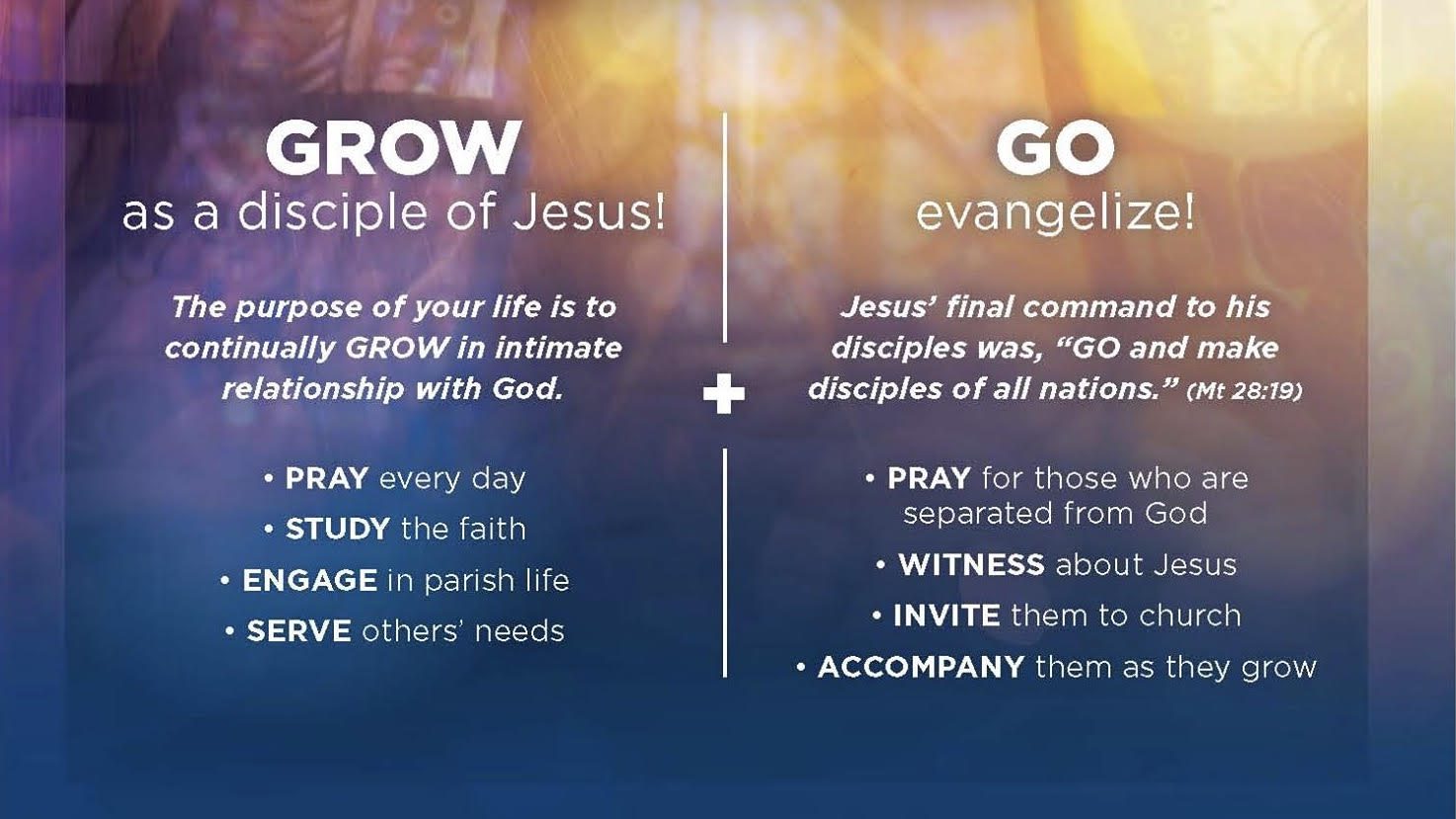 Together, let's grow in our faith and go and make disciples!
Advent blessings,
Fr. Chas