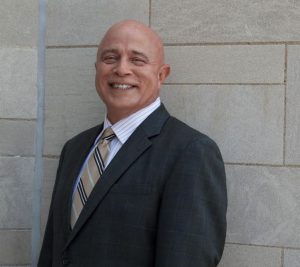 It was shortly after the New Year in 2017 that we began the planning for our historic "Witness to Hope" campaign, so I'd like to take this opportunity to provide an update about the case elements at this point.
Bathroom Kudos
With one of the first projects in our Witness to Hope completed (so many of you have said the bathrooms were well worth the wait!), it is time to share with our parishioners some of the key "players" who made this happen. There were many people who contributed to the project, but there were some whose contribution was both monumental and irreplaceable. Even though money had been earmarked through the Witness to Hope campaign, the Knights of Columbus pledged an additional $10,000 to help make the bathrooms be everything they ought to be in a house of God. When you consider the cost overruns that were caused in large measure by the discovery of stained glass windows covered up over fifty years ago (check them out if you haven't already!) and the remediation of extensive damage caused by leaking HVAC, without the Knights' support we would have had to draw against money earmarked for other uses and pray that we could find a way to make it up. Also, members of the K of C provided physical labor in the removal of debris caused by the project and in the painting of the vestibule as we neared completion. For both this and their financial contribution, we are truly grateful. Mr. Jim Desy of Lammers Heating and Air Conditioning was also simply indispensable. When we discovered the source of the odor in the original bathrooms, he was there to craft the solution. When the original contractor got bogged down, he was there to support him and help to reignite the process. He gave sound aesthetic advice and implemented ideas that made the final result more beautiful. All of this was accomplished by a man who never bothered to send a bill, and his legacy should be legendary.
Witness to Hope Update
The pledges have been made, and the final tally is $2,495,412! Our parishioners really rose to the occasion. As pledges are fulfilled, the money is being placed into an account with the Diocese that we will draw on as we commence the projects. Currently there is $166,661 in that account. Do we need to have all of the money in hand from pledges to start a project? Not necessarily. What is planned is to "borrow" the money from our current accounts and repay it with pledge money as it comes in. Jean Howe, our finance manager, is studying the numbers so that we make prudent decisions about how much we "loan" ourselves so that our reserves do not dip too low. We have created a projected timeline of cash flow. This is an estimate that considers how some people will pay pledges sooner than they promised, and some may be a bit slower. We also have started with the timeline for the projects themselves. To refresh your memory, the projects include painting and restoration of the interior of the church, repaving some church parking, replacing windows and classroom floors at the school, paving at the school, upgrading entrances and weather sealing at the Oratory, and sound system and other facility upgrades to support the Oratory. We will publish the details of the plan as it takes shape. If you have ideas, you can share them by emailing andy@saintjohn jackson.org. We are now reaching out to parishes that have recently replaced their school's windows, and we also have started the creation of an RFP (Request for Proposal) for paving at the church and the school.
Organ Update from Dominic Kryst, Director of Music Ministry, Organist, and Chair of the Organ Committee
The organ committee has invested many hours in the last few months, reviewing details of multiple proposals to rebuild and install our 1934 Aeolian Skinner pipe organ. Each bid submitted was well-crafted, which made our decision more difficult. With the support of an ad hoc consultant, much praying, and many group discussions, we are pleased to announce that we will be partnering with the Muller Pipe Organ Company of Croton, Ohio. Their bid was consistent with our vision for the organ and their timeliness and responsiveness communicated a strong desire to support what is truly a work of art. Muller is a 4th generation family business that will celebrate its 100th anniversary next year, and they enjoy an outstanding reputation in the world of organ restoration and installation. They also have specific expertise in the make and model of our organ. What comes next? Around mid-June the pipe organ will be moved from storage in Massachusetts and transported to the Muller shop in Ohio. It will remain there in climate-controlled storage until the needed funds are raised to begin the restoration process. Once we raise those funds, restoration and installation will begin in our church. That process is estimated to take approximately 18 months. Recall that the funds for this project will come neither from our yearly operating budget nor from our Witness to Hope budget. As we finalize our contract with Muller, we will be revisiting a couple of foundations that have indicated they may be willing to support this project financially.
If you have any questions, you can email dominic@saintjohnjackson.org or catch him coming down the stairs from the choir loft after Mass on Sundays.