Dear Parish Family,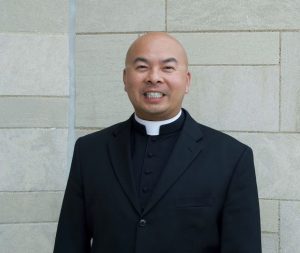 Greetings from Oxford, England!  Time is flying here with June already upon us!  It's a rainy day today as I sit in my room at St. Benet's Hall, which is one of the 44 colleges and halls that make up Oxford University.  Oxford doesn't use "college" in the same way we do in America. The term does not refer to an academic department, such as the College of Business or College of Arts and Sciences; those are referred to as faculties.  Each full-time student at Oxford is associated with a college or hall, which is a community of intellectual and personal formation. Many of the students reside at their college or hall, and those that live elsewhere come in for tutorials, meals, meetings, and other communal events.
St. Benet's Hall is associated with Ampleforth Abbey, a Benedictine monastery in the northern part of England.  Daily Mass is after morning prayer at 7:30 a.m. Though it is a Catholic hall, most of the students are not Catholic.  The hall is comprised of about 60 undergraduates and 25 graduates and postgraduates. We share our days of learning together most often around the long dinner tables at meal times.  Three meals a week are formal dinners where jackets are required for the gentlemen, and a glass of wine is served with the first and second courses (such a burden, I know)! On Tuesday dinners, there is a speaker.  It is one of the smallest among the colleges and halls, which will be a significant contrast to the prominent college of Christ Church, where I'll be spending my last couple of weeks for the Theology Summer School.
England is so steeped in history!  On various weekends, I've ventured to other religious houses and gotten to see a few of the areas where that history has played out.  I've spent a weekend at the Benedictine monasteries of Buckfast Abbey in Devon, Downside Abbey in Somerset, as well as some days with the Carmelite friars at Aylesford Priory in Kent and the English seminarians at St. John Seminary in Surrey.  I've even gotten to play some golf (though it is a bit more expensive to play out here than in Michigan)!
Driving in England has been quite the experience!  The most difficult part of adjusting to English driving for me surprisingly was not that the driver's side was now on the right front seat, which meant I now had to shift with my left hand (while driving on the left side of the road)!  Adjusting to doing everything backwards was quite easy actually. The hardest part for me was trying to figure out which lanes to use and when to exit the ubiquitous multi-lane roundabouts that have four or more exits coming from them! Never drive in England without some GPS navigation assistance because you really have to know where you're going!
Another big adjustment was driving on much narrower countryside roads. You really have to pay attention!  One little slip and mistaken swerve could be deadly. There are many two-way country roads with traffic going both ways, but both cars cannot fit without the other one pulling off to the side.  There are some where you have to back up to the the next driveway to let the car coming from the other direction go through! These can make going around blind sharp curves a little nerve-racking!
With all the walking, I'm happy to report that my physical health is improving!  The English love their parks and gardens, so I've gotten into a habit of walking each day (a healthy practice that I hope I continue when I get back).
Though an ocean separates us in this time of sabbatical, know that I keep you close in my heart through my daily prayers.  In fact, I pray for our parish family multiple times a day.  I actually will be in Michigan for two weddings this month, so I will be sure to say hello during the usual time at the beginning of Mass.  Now, off to class!
Happy Feast of Corpus Christi!
Fr. Chas