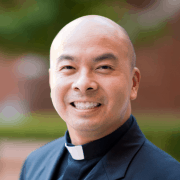 Dear Parish Family,
As you may have noticed in last week's bulletin, World Youth Day was a particularly memorable time for our Coordinator of Youth Ministry, Hannah Stevens.  Her now fiancé, Tom, got down on one knee and proposed to her!  With her engagement, her continual training in the Theology of the Body and assisting our diocese in some of their efforts to make the Theology of the Body more widely known, Hannah has decided this would be the best time to step down from her position as our Coordinator of Youth Ministry.  
I am grateful to Hannah for getting our youth program up and running again.  She along with Leslee Hartford, literally helped some of our school girls up and running by coaching the "Girls on the Run" 5k. Hannah also helped in a number of other ways, such as hospitality, faith formation talks, and helping Leslee in the front office. Hannah is very gifted in speaking and passionate about the Theology of the Body. So, while we will have to fill a void in youth ministry, we are happy she will continue to use her gifts at the service of Christ and his Church.
Our part-time Coordinators of Marriage and Family Life and Mission Advancement, Dennis and Rose Wingfield, have also decided to step down from their role.  Dennis and Rose have been with us for about ten months helping with the Parish Representative initiative, these initial stages of the Heritage Hall feasibility study, and marriage preparation. They now desire to work more directly in helping heal and strengthen current marriages. Their long commute from the Northville area also did not make this an ideal long-term fit for them.  I am grateful to Dennis and Rose for the foundational work they have done in helping gather forty of the seventy-two parish representatives we have recently gotten in place and the engaged couples they have helped prepare for marriage.  They too leave a void that we will have to fill.
Finally, we have great news in that we have received a grant from a foundation based in Ann Arbor to pay for a Director of Parish Operations.  If you remember, our Operations Manager retired last October, and this has left quite the void that Rose Noble, Larry Brown, and I have attempted to fill. However, it really is a full-time position that we have not been able to adequately parcel out to other staff members, given that the duties of our own positions already give us more work than we can possibly accomplish.  An Ann Arbor-based foundation, interested in forwarding the work of the new evangelization and desirous of freeing the pastor from behind the desk and to get out more with our parish families and into the Jackson community, recognized this and has given a large grant to cover the salary and benefits for the position.  Some members of the pastoral council and finance council are helping with the future hire.  We thank God for his providence!
Yours in Christ,
Fr. Chas