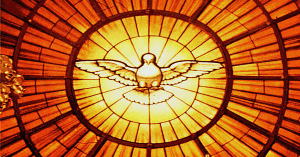 Our parish will be blessed this weekend, May 15, with Father Mathias Thelen coming to visit and lead us in a very special Pentecost Healing Service. The service will begin shortly after the 5pm Sunday Mass concludes, 6:30pm.
The healing service will include Exposition of the Blessed Sacrament, opportunities for Reconciliation, Worship and Praise music, a reading from the Gospel, and a homily by Fr. Mathias. After the homily, and while Jesus is exposed in the Eucharistic Adoration – parishioners will have the opportunity to be prayed over, using a technique known as "laying on of hands".
Are you seeking healing in your life? Physically, emotionally, or spiritually? Are you looking for an opportunity to come closer to our God? Come join us at 6:30pm on May 15.