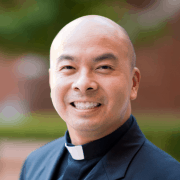 Dear Parish Family,
We had a joint pastoral council and finance council meeting last week on January 12 to discuss a few things that pertained to both groups.  There was unanimous agreement on going ahead with plans to hire an architect who can give us more accurate cost estimates and a better scope of what we are looking at for the proposed "Heritage Hall."  The structure would connect the parish center and the right transept of the church, which would provide many benefits that we have mentioned before:
•Make the church more accessible for the elderly and handicapped
•Provide an area where families with crying children can participate in Mass without disturbing the rest of the congregation
•Promote community by providing a gathering area where parishioners can socialize before and after Mass
•Encourage participation in events in the parish hall
•Provide one primary entrance during the week to the parish center, office and church to increase security and allow the church to be open for prayer on weekdays
•Provide an overflow area for Christmas and Easter and other highly attended liturgies
•Showcase the rich history and heritage of St. John, the Mother Church of Jackson
•Provide access to our parish center's handicapped accessible restrooms
The Shaughnessy brothers, Phil and Tony, and David Best, along with two part-time staff, Dennis & Rose Wingfield, are the subcommittee of Building and Grounds that is working with the architect.
The Gamma Group Gets You Going in Your Spiritual Life
We are kicking off the Gamma Group this month, and there is a meeting today (Sunday), Jan. 24.  Led by our Director of Faith Formation, Todd Gale, which many of you have been raving about, the Gamma Group are for those intentional disciples who want to go and grow deeper in their
relationship with the Lord, particularly through a formation in prayer, spiritual direction, St. Ignatius discernment of spirits, and the discovery of the gifts God has uniquely given each of us.
Maybe you've gone through our Alpha Course (which we are offering again beginning Feb. 12) and God has touched your life in powerful way, and you're wondering what next?  How do I follow you better?  How do I sense your presence and promptings in my life?  If you're wondering about such things, come to the Gamma Group!  It's essentially about becoming more aware of how God personally relates with us and animates our lives.  The Gamma Group meets twice a month on
Sundays at 6:00 p.m. (right after the 5:00 p.m. Mass) in the parish center, and there's one this very Sunday!
Yours in Christ,