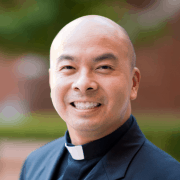 Dear Parish Family,
She was the mainstay and face of St. John Parish as parishioners and guests walked into the parish office.  You may have heard the sad news that our beloved Suzzanne Sinkovitz has decided to resign after twenty years with us!  Upon hearing of her decision, you can be sure I repeatedly tried to convince her to stay, but the unexpected opportunity that came her way was just too good to pass up professionally.  
Suzzanne will be greatly missed not only because of the central role she played in keeping everything in the parish office running smoothly and efficiently, but most of all because of the deeply caring and warmhearted person she is.  With her let's-get-it-done-now approach, she will be a great asset to the company with whom she is now employed.  
We will have Suzzanne with us until August 28, and she thankfully has agreed to help train those who will take her duties.  We will wish her well with a reception on her penultimate day with us, August 27 at 4:00 p.m.  To ensure we have enough refreshments, please contact the parish office (suzzanne@stjohnjackson.org or 784-0553) to let us know if you will be coming.  May God bless Suzzanne in her new endeavor!
With Suzzanne leaving us, this obviously means we need to find a capable, kind, and detail-oriented administrative assistant, or multiple part-time employees, who will fulfill all the various duties of secretarial support, office organization, bulletin editing, reception, record keeping, and scheduling.  Please see the job posting in this bulletin and refer to us any candidates you think would be an excellent addition to the staff.
Mark Martin Is Off to Seminary!
You see him most frequently each Sunday mentoring our altar servers.  With his youthful appearance, many of you thought this 22-year old was still in high school!  This unfortunately is the last Sunday that Mark Martin will be with us as a seminarian intern.  He will be entering his first academic year at Sacred Heart Major Seminary, year one of his six-year journey to priestly ordination.  The first couple of years will be a time of deep discernment of his calling, which is a time of confirmation that the prompting God has placed in his heart is truly one that is a calling to priesthood.  He will be studying to receive a bachelor's degree in philosophy, the prerequisite degree for a candidate to priesthood to obtain a graduate degree in theology.  
Mark's popularity with our school kids was not only due to his work with the altar servers; he visited the school regularly, stopping by classrooms and helping with recess duties.  He also helped clean up our outdated parish records by contacting parishioners and updating their information.  He also met many of you through his help with the fireside chats and faith formation evenings.  
We will be wishing Mark well with a reception in the parish hall after this Sunday's 5:00 p.m. Mass, but it won't be a final goodbye.  I am sure that, over the course of his studies, we will see Mark once in a while on his off-campus weekends and during his semester and summer breaks.  Let us continue to keep him in our prayers.
Yours in Christ,
Fr. Chas