Dear Parish Family,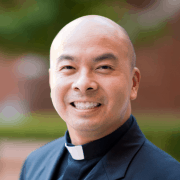 This year, All Saints Day falls on a Sunday.  Inspired by all our brothers and sisters in heaven who have gone before us, it's a great day to remember that each and every one of us is called to be a saint.  "Not me!" you say.  But remember this:  "Every saint has a past, and every sinner has a future!"  We become saints by our ever-growing union with God by which we become more and more conformed to Jesus Christ.  St. Josemaria Escriva said:  "A saint is a sinner who keeps trying."
So if you're thinking, "I could never be a saint!" it would be wise to think again because there are no non-saints in heaven (yes, I know, a double-negative)!  Everyone who enjoys eternal bliss has become a saint.  If we are to join our holy loved ones who have gone before us, then anything that is not of God must be purged from us, whether that happens in purgatory or here and now.  It might as well be the latter!  
Speaking of our loved ones who have passed, our annual Mass of Remembrance is this Thursday, November 5 at 7:00 p.m.  All are invited to remember their deceased family and friends and pray for the repose of their souls.  We especially honor those who have passed away in the last year.
In Appreciation of Ben Dandrow's Service
Our dedicated and hardworking Operations Manager, Ben Dandrow, has decided to resign from his position as of October 31, 2015.  Many of us recognize Ben as making quite the comeback from his open heart surgery at Allegiance last year.  Ben did not waste any time getting back into the swing of things.  With the July 2014 diocesan audit uncovering a whole host of things that needed to be addressed at the parish, Ben went right to work on a number of priorities.  Overseeing the operations of four different campuses was not an easy charge.
I am particularly grateful for Ben's supervision of the work that was accomplished over this past year on our school grounds.  This included the beautifully repaved driveway that stretches from Leroy St. to North St., as well as a number of much-needed improvements to the inside of the school occasioned by Jackson Middle School's move to Lumen Christi.  Due to his diligence in getting competitive bids, he was able to save the parish thousands of dollars and see the projects through completion.  
In addition to his work as Operations Manager, Ben served as the worthy Grand Knight of our Knights of Columbus through June of this year, mobilizing his fellow Knights to contribute to a number of different projects that supported great causes here at the parish and in the community.  We wish you the best, Ben.  Thank you for your steadfast service.
Yours in Christ,
Fr. Chas