Dear Parish Family,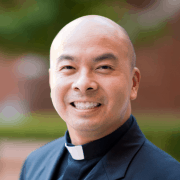 The departures of Barb Dwyer and Ben Dandrow from our staff have left some big holes to fill. While no one can replace them, we thankfully have two very qualified people who will join us as part-time employees, Dennis and Rose Wingfield. And yes, they happened to be married!
Dennis and Rose are currently living in Northville while they are finishing their Master's degree in Pastoral Studies at Sacred Heart Major Seminary. They both have impressive backgrounds and bring a wealth of experience, both from their secular careers and from their work in the lay apostolate and ministry.
Dennis had a long career of more than 35 years in the automotive industry as a product design engineer. In addition, he was a strategic planning consultant for ground military vehicles.
Rose spent more than 25 years in communications, public relations, and development in media, corporate, agency and nonprofit settings. Most recently, she served as newsletter editor for Renewal Ministries.
All the while, Dennis and Rose have been passionate in helping couples discover the beauty, truth and goodness of God's plan for marriage. They have been involved in several aspects of marriage ministry including preparation, enrichment and restoration. For 20 years, Dennis has encouraged men to stand for the healing of their broken marriages.
In addition to marriage ministry, Dennis has experience in Stephen Ministry as a caregiver, leader and program director. Both Dennis and Rose have been actively involved in Alpha at their parish. They have also been active in crisis pregnancy intervention through the Gabriel Project and Mother and Unborn Baby Care.
Dennis and Rose were both widowed. They met on Ave Maria Single Catholics Online and courted long distance for several months before marrying in December, 2002. Together, they have three grown children and four grandchildren.
At this point in their lives, they desire to devote themselves fully to serving God's people, particularly in the area of strengthening marriage and family in the parish setting. They are excited to be part of St. John the Evangelist parish family.
Yours in Christ,
Fr. Chas