Religious Education Newsletter –October 9, 2016
FROM MR. GALE
It's been fun to see last year's students back for another year; and welcome aboard to all the new families! The first two weeks are the bumpiest, and then from here on things tend to get smoother as we all know each other more and the routine sets into a pattern. The 2nd Grade class decided they wanted to meet back in their room from last year; way down the hall in the North end of the building—but there will be no change for parents. They will still drop off and pick up in the Gathering Room.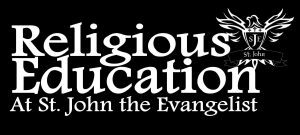 In the weeks ahead we are focusing on the basic prayers of the Rosary: the Sign of the Cross, the Our Father, Hail Mary and Glory Be. I have attached the sheet of prayers and mass parts we will be memorizing this year: CLICK HERE. 2nd Grade families especially: please be sure to work on the Act of Contrition! We also have been learning some songs and some basic "shout outs" about the Faith.
Please be sure to include Mass in your Sunday schedule; so many of our students tell us they aren't familiar with Mass because they do not go often enough. We don't want you to go out of guilt; we want you to WANT to spend some time with Jesus in a real and profound way. Here is a YouTube video link to an amazing talk by Vinny Flynn called The 7 Secrets to the Eucharist (the book and audio is available from many sources if you Google it) : https://www.youtube.com/watch?v=xfmkypkZg4I
UP-COMING DATES AND EVENTS
CONFIRMATION
THIS YEAR'S celebration of Confirmation 2015-16 Class
(mostly 9th graders who have done all the prep for the last year)
Final Meeting and Practice: THIS SUNDAY, October 9 from 2:00-4:00 at St. John Community Room
Celebration of the Sacrament: Sunday, October 16, 2:00 OUR LADY OF FATIMA in Michigan Center
The 2016-17 Confirmation class (mostly 8th Graders this year)
Are now BEGINNING their preparation: Initial letters will be mailed out in the NEXT WEEK and will be posted on our parish website. Our first large group meeting for NEXT YEAR's candidates and their parents and sponsors is Sunday, November 13, 3:00-5:00 in the St. John Community Room.
The Sacrament of Confirmation will be celebrated NEXT YEAR in October, 2017.
SNACK SCHEDULE.
2016     
10/2/2016         WE provide
10/9/2016         WE provide
10/16/2016       A-D
10/23/2016       E-H
10/30/2013       I-M
11/6/2016         N-R
11/13/2016       S-Z
REMEMBER:
VISITING FRIENDS. Frequently our regular attendees have sleep-overs with friends or cousins. Guests and visiting friends are welcomed, provided there is MINIMAL disruption! Please try to keep students in age-appropriate classes. Visitors must be signed in with parent's name and an emergency contact number!
<><
Todd
Todd D.Gale
Director of Faith Formation
St. John the Evangelist Parish
711 N. Francis St.  Jackson, MI  49201
(517) 784-0553  X 121