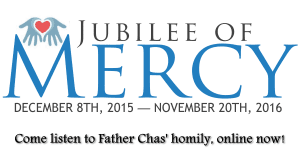 Today we celebrate the Third Sunday of Ordinary Time. We heard the readings from Nehemiah 8:2-4A, 5-6, 8-10 and 1 Corinthians 12:12-30. The Gospel was proclaimed from Luke 1:1-4; 4:14-21.

Father Chas describes the Jubilee Year of Mercy, and further instructs us on the true meaning of mercy.

To easily download this homily in MP3 format, be sure to check our online homilies page!