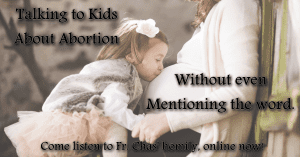 Today, Friday January 22, 2016, is the anniversary of the Roe vs. Wade decision; as such, the Church celebrates a Day of Prayer for the Legal Protection of Unborn Children.
Each Friday our Parish has our Elementary School in attendance at Mass, and Father Chas used the opportunity to preach the truth about abortion to kids – without even mentioning the word.

To easily download this homily in MP3 format, be sure to check our online homilies page!